Workshops and Courses

I am again no longer accepting teaching engagements outside
Tasmania. Air travel has lost whatever meagre charm it may have once had.
However, I am still willing to travel within Tasmania, or to organise a workshop
locally.
Courses are offered under the following broad topics:
A. Silk Painting (including Aussie Shibori)
B. Creative Freehand Machine Embroidery (FME)
C. Combined Courses (A and B together, or Mixed Media*)
D. Doll-associated Courses.
* Mixed Media as used here means a combination of my specialities, like silk
painting together with machine embroidery. It does not refer to the currently popular
type of mixed media involving paper, paints, sprays, plaster, etc.
You will find details of future scheduled courses below the images on this page.

Oz Landscape (2006) 26cm x 8.5cm (10.25" x 3.375")
Left, above: Angelfish Tabard-style vest (detail of angelfish on back) (1993)
Right, above: Coral Garden by Saakia Itchins, begun in the 2007 Hobart Neptune's Garden
class; freehand machine embroidery on hand-painted silk
Three Bark, Lichen and Bracket Fungus pieces in freehand machine embroidery (with
hand-embroidered detail).

Aussie shibori demonstration piece of one technique from a workshop 8th - 10th June, 2013
Anyone interested in an Aussie Shibori workshop at my Havenfield
studio (in the Dye Shed), please contact me at my e-mail address:
ken at bennett-smith dot com (Trying to foil the robots.)

2011. My Guest Artist stand at Expertise Events' Craft Show at the Launceston Silverdome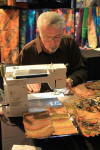 2013. Demonstrating as Guest Artist at the Tasmanian Craft Fair at Deloraine (photo courtesy of Valda Jennings)

My stand at the 2013 Deloraine Craft Fair
2014 Grampians Texture, Halls Gap, Victoria
22nd - 27th February, 2014 - Student work
Pieces created in my workshop at Grampians Textures: Bark, Lichen and Bracket Fungus (from left, by Debbie
Clifford, Christine Beehag, Mardi Robson and Jenny Vick)
Links
Mieke Apps, leading New Zealand quilt and textile artist
Jenny Dowde, freeform knitting, scrumbling and polymer clay
Teena Hughes, Australian silk painter (also www.abfab-australia.com)
Carol H. Straus, American quilt artist
Carol Wilkes, one of Australia's leading textile artists; Queen of the wrapped cord
My great friend Barbara Bilyard, one of New Zealand's most talented leading quilters, died on 18th March, 2011. Her passing was peaceful and she was surrounded by her family. I shall miss her company, her warmth and kindness, her infectious laugh and her wonderful sense of humour. She will be missed by many.
Sad news: on the 8th of August, 2016, dear Mieke Apps (see above) passed away peacefully at home after a prolonged illness. It was her wish to spend her last months at home. She was cared for by her husband Graeme. I was very fond of Meike, and valued her friendship. She was a good friend, and had a wicked sense of humour and a very Dutch forthrightness She did not suffer fools gladly. Her talents were enormous, and her creativity prodigious. New Zealand's textile community has lost another of its treasures.
Contact Information
Postal Address:
P. O. Box 39, KETTERING, Tasmania 7155, Australia
Electronic Mail: ken at bennett-smith dot com (Trying to fool the robots.)